Brake Repair and Replacement Service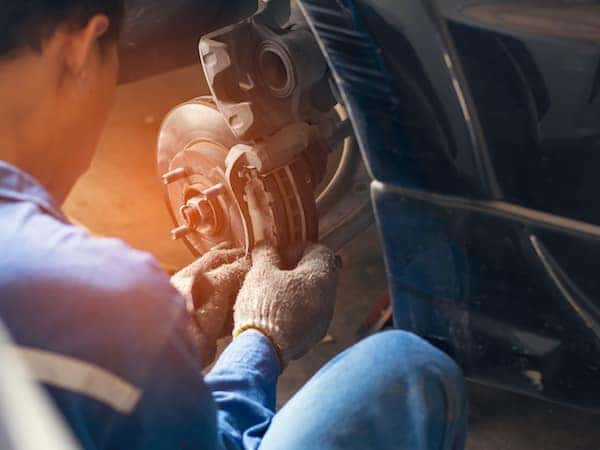 Have your brakes been feeling less powerful than normal or making funny noises? Is it just time to bring in your vehicle for routine maintenance? Your service team at Arrigo Chrysler Dodge Jeep Ram is here to help you maintain your vehicle's performance including brake repair and replacement.
Maintaining your Vehicle's Brakes
Keeping your brakes in good condition aids your safety while behind the wheel. The service team at Arrigo Chrysler Dodge Jeep Ram of West Palm Beach is factory trained. They will use OEM recommended parts and techniques to maintain your vehicle integrity.
When you come in for a brake service our team will inspect several elements to ensure that the entire braking system is working properly. This includes:
Brake Pads
Brake Fluid Levels
Rotors
Lines
Calipers
Hoses
Once your technicians have inspected your brake system they will be able to perform the necessary repairs and maintenance.
We recommend that you have your brake system inspected every six months or whenever you rotate your tires. Unusual noises when braking are often an indicator that it may be time to bring your vehicle in for an inspection. Following this schedule and listening to your vehicle helps to make sure that no issues go unnoticed, keeping you and your passengers safe in your vehicle.
Schedule Service in West Palm Beach
With the unpredictable weather in Florida causing various driving conditions, it is important to stay on top of your vehicle's brake health. Safety behind the wheel is an important thing to stay on top of and brake maintenance is a big part of this. Go ahead and schedule a service appointment to start the process today! If you have any further questions on how to stay on top of your vehicle's service schedule, please do not hesitate to contact us.
We want to guarantee that each of our customers receives the care they need for their vehicles. Our team is committed to giving you the best service and deals around. Be sure to check out our brake service coupon options to learn more.